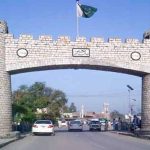 ISLAMABAD: President Dr Arif Alvi and Prime Minister Imran Khan on Friday strongly condemned a terrorist attack in Kharkamar area of North Waziristan that resulted in martyrdom of three officers and a soldier of Pakistan Army.
President Alvi in his statement said that miscreants were against the restoration of peace in the area, however, the nation was united against them.
He prayed for the departed souls to rest in peace and for the grant of courage to the bereaved families.
On the other hand, Prime Minister Imran Khan has strongly condemned the terrorist attack in North Waziristan.
"Deeply saddened to learn of the shahadat of 3 officers & 1 soldier from a terrorist-planted IED blast in Kharkamar, N.Waziristan," Khan said on his Twitter account.
He paid rich tribute to army personnel who embraced shahadat and got injured in this attack. He also expressed sympathy with the bereaved families of shaheed officers and soldier and prayed for early recovery of injured.
Imran Khan said that some elements are using the brave people of the tribal area but the state will never allow anyone to interrupt the peace.