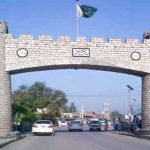 ISLAMABAD: The Presidential Candidates including Arif Alvi, Aitzaz Ahsan and Maulana Fazlur Rehman on Monday submitted their respective nominations papers as filing of nomination papers by Candidates for the September 4 Presidential Election enters last day today.
The Pakistan Tehreek-e-Insaf's (PTI) Presidential Candidate Dr Arif Alvi accompanied by Shibli Faraz, the Deputy Speaker Qasim Suri and Farrukh Habib submitted his nomination papers in the Islamabad High Court (IHC) for the Presidential Election.
Likewise, the Pakistan People's Party's (PPP) Aitzaz Ahsan submitted his nomination papers in the IHC for the Presidential Election. The PPP senior leaders Sherry Rehman, Qamar Zaman Kaira, Syed Khursheed Shah and other leaders accompanied Aitzaz Ahsan.
Talking to the media persons after submitting his nomination papers, Aitzaz Ahsan said his nomination for the slot was the party's decision.
"I have been doing politics since 1964, I was even arrested while protesting against Ayub Khan," he said.
Aitzaz Ahsan said he was not expecting the objections raised by PML-N Senator Pervez Rasheed against him.
The PPP's Presidential nominee admitted that two Presidential Candidates from the ranks of the opposition will benefit the PTI.
Separately, the Chief of Jamiat Ulema-e-Islam Fazl (JUI-F) Maulana Fazlur Rehman – a nominee of the Joint Opposition sans PPP and including PML-N, Muttahida Majlis-e-Amal (MMA), Awami National Party (ANP), Pakhtunkhwa Milli Awami Party (PkMAP) and National Party – also submitted his nomination papers in the IHC.
As per the Election Commission of Pakistan (ECP), Candidate for the Presidential Election can file their nomination papers with Presiding Officers in Islamabad, Lahore, Karachi, Peshawar and Quetta.
READ Pakistan's membership of NSG is in the interest of nuclear trading countries: Foreign Office
The Chief Election Commissioner (CEC) Justice (retd) Sardar Muhammad Raza will conduct scrutiny of nomination papers in Islamabad on Wednesday at 10:00 in the morning.
The Polling for election to the President will be held on September 4 in which members of Senate, National Assembly and four Provincial Assemblies will cast their votes.