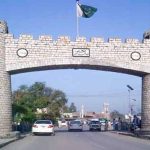 ISLAMABAD: After expiry of the deadline for withdrawal of candidature, three candidates have remained in the field now to contest the presidential election on Tuesday next.
The deadline for candidates vying for the office of the country's president to withdraw their candidature ended as the clock struck 12pm on Thursday.
The Election Commission of Pakistan (ECP) will shortly publish the final list of candidates for the presidential election.
Pakistan Tehreek-e-Insaf's Dr Arif Alvi, Pakistan Peoples Party's (PPP) Aitzaz Ahsan and Jamiat Ulema-e-Islam-Fazl (JUI-F) chief Maulana Fazlur Rahman are in the run for the presidential election to be held on September 4.
A day earlier, the ECP scrutinised and approved the nomination papers of the three candidates as opposition remained divided over fielding a consensus candidate.
PPP decided that it would not withdraw its presidential candidate Ahsan.
Meanwhile, the other opposition parties fielded the JUI-F chief as their presidential candidate.
Polling for the presidential election will be held on September 4.
The president is elected by an electoral college comprising members of the Senate, National Assembly, and the four provincial assemblies. Voting is held through a secret ballot.