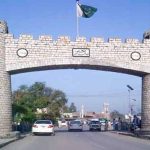 KARACHI: Startling revelations were surfaced during the investigation of prisoners' escape from Karachi's Central Jail, revealing that the suspects absconded with the assistance of jail officials.
Reports stated that the authorities were asked who took the terrorists to the central jail despite court's holiday and why?
Initial report exposed that the prisoners reached employees colony after cutting the bars of the court room whereas no counting was carried out soon after their hearing. It was also revealed that suspect Mumtaz used judge's washroom, attached to his chamber, for shaving.
Additional Inspector General said that no one can climb the wall of the jail due to its height.
On the other hand, law enforcement agencies launched a search operation at Central Jail and recovered prohibited items including drugs after thoroughly checking barracks of the prisoners.
Earlier, accused Sheikh Muhammad alias Firoun and Ahmad Khan alias Munna, who were arrested by CTD officer Fayyaz Khan in 2013, escaped the Central Jail.
At least 12 officials of Central Jail, including jail superintendent and deputy superintendent, were taken into custody on the directives of Sindh Law Minister in connection with the case.