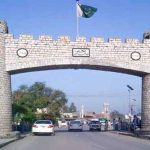 PESHAWAR: A local court Tuesday sentenced a principal and owner of a private school to 105 years imprisonment over child abuse, pornography, rape, blackmailing and having illicit relations.
The sessions judge Younis Khan also imposed Rs 1.4 million fine on the convict, Attaullah Marwat
The accused was arrested by the Hayatabad police after registration of an FIR against him on July 14, 2017, charging him sexually exploiting schoolchildren, including girls, and filming them with secret cameras installed on campus.
A trial court had framed charges against him on eight counts under the Pakistan Penal Code, including Section 354-A (stripping a woman of her clothes), 376 (punishment for rape), 377-B (sexual abuse of child), 489-C (counterfeit currency), 497 (adultery) and 509 (sexual harassment), and Sections 48 (child pornography), 50 (seducing a child) and 53 (sexual abuse) of the Khyber Pakhtunkhwa Child Protection and Welfare Act, 2010.
He was found guilty of all charges and handed various jail sentences under each section — resulting in a total prison term of 105 years.