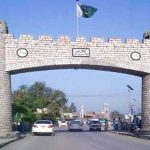 LAHORE: The process of printing ballot papers for the upcoming general elections 2018 has been kicked off Sunday.
According to details, the process of printing ballot papers has been commenced under the supervision of Pakistan Army.
Around two hundred ten million ballot papers will be printed for the polls at a cost of two billion rupees.
Ballot papers of green color will be for National Assembly seats while white papers will represent provincial assemblies.
As per schedule, the general polls will be held on July 25 across the country.