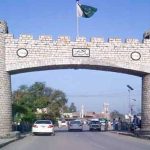 Two people including a renowned businessman were injured when unidentified gunmen fired shots at the vehicle in Karachi's Pak Colony area.
The businessman, identified as Mohammad Lakahi by the authorities, was also among the wounded but he was said to be in stable condition at a hospital.
Mohammad Lakhani is a well-known businessperson in Karachi. He is a managing partner at Adamjee Textile Mills.
His life is out of danger, said DIG Irfan Baloch.
The another man injured in the attack identified as the driver of the businessman. Lakhani was traveling only with his driver, according to Baloch.
It was not clear immediately if the incident was linked to street crimes or if the businessman was targeted for some other reasons.
The vehicle was shot at near the Lyari area which was once a hotbed of gangsters, reported Shahmir Khan.
Some of the criminals have returned to the area in recent months, he said.
The attackers on two motorcycles shot at the vehicles in this busy area and fled.