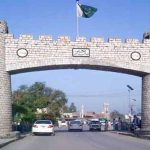 PESHAWAR: Promotion of social tolerance among different segments of society is the most urgent need of time and teachers can play a key role in this regard.
These views were expressed by Vice Chancellor of the Shaheed Benazir Bhutto University for Women, Professor Dr. Razia Sultana, and other speakers while inaugurating the Pak Institute for Peace Studies (PIPS) project on the theme "Promoting social tolerance for peaceful co-existence" here on Thursday.
Under the project, funded by the USAID's Ambassadors Fund Grant program, teachers will be trained to promote social well-being in the community. A large number of colleges and universities in Peshawar and adjoining areas attended the event.
Vice Chancellor Shaheed Benazir Bhutto University for Women Dr Razia Sultana lauded the project's goals and said that good education and training of children in the seminaries is the guarantee of a better society.
She said that training on teachers' latest posts would play an important role in fulfilling their basic duties. Sheikh Zayed Islamic Center University Director Rashaad Saljok said that people of Khyber Pakhtunkhwa have been rich in the best of social traditions for centuries, adding that the tradition of teachers will help further strengthen these traditions.
Speaking on the occasion, the project coordinator of the Pak Institute for Peace Studies said that his company has been working in this field for the past several years, but the USAID's Ambassadors Fund grant program supports training on this important topic will be instrumental in promoting the dialogue for which we are grateful to the Ambassadors Fund Grant Program.