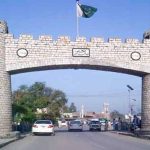 PESHAWAR: The Khyber Pakhtunkhwa Chief Minister Pervez Khattak has said that it was responsibility of the government to provide clean environment to the citizen.
"People need to dump the waste in the front of the local govt representatives' houses to realize them their duties," said Pervez Khattak while addressing the opening ceremony of second phase of cleanliness drive in Peshawar. Lack of solid waste management system is the failure of the local representatives, added he.
His government done a lot of things for clean and green Peshawar and even developed Water and Sanitation Service Peshawar (WSSP) to give clean environment to the people. They developed and improved the 13 parks and gardens of Peshawar, destroyed from many years, said Khattak.
On this occasion, he thanked AVT Channels for highlighting and taking parts in clean Peshawar drive.