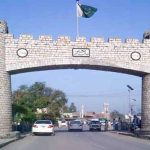 KARACHI (Khyber News) – The Pakistan Cricket Board (PCB) has on Thursday postponed the sixth edition of the Pakistan Super League (PSL) due to covid-19 after a total of seven individuals tested positive.
Earlier today, the PCB had confirmed three more players from two different teams had tested positive for covid-19.
The three players were not part of the sides that featured in Wednesday's Pakistan Super League 6 double-header, and had been tested in the afternoon after showing symptoms.