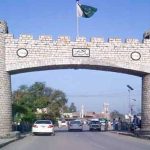 KARACHI: Pak Sarzameen Party (PSP) leader Fauzia Kasuri revealed on Sunday that she her 'journey in politics is over'.
In the wee hours of Sunday, Fauzia was replying to a follower on Twitter where she wrote, "My journey in politics is over. However, I continue to pray for Pakistan and wish to do whatever little I can for helping out with various charities."
On May 23, Fauzia Kasuri, one of the central figures of the Pakistan Tehreek-e-Insaf, (PTI) announced her decision to quit the party and joined the Pak Sarzameen Party (PSP) later.
Ms. Kasuri's resignation letter to Imran Khan and other PTI members read, "It should come as no surprise to you that I have decided to leave the PTI,"
She further thanked Imran Khan for providing her a platform to develop her political career in line with the principles of justice, merit and accountability that were previously ingrained in the party's culture.
Ms. Kasuri said that it was a difficult decision for her to leave the PTI, as she genuinely cared about the party workers, and had dedicated over 22 years to the party. However, she denied indulging in politics of power.