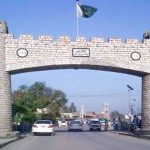 KARACHI: Pakistan Stock Exchange (PSX) dictated political happenings and index suffered fresh erosion under the lead of steel, cement and power companies.
The market opened in the red territory and index saw a decline of as much as 350 points and index reached 45637 points lowest mark in the session.
The index once again in the spell of political happenings, this time rally and dharna called has depressed the mood of the investors.
Former Prime Minister Nawaz Sharif has decided to reach Lahore through GT road and arrival of Tahirul Qadri calling his supporters to be prepared for one more dharna (sit-in) are enough to depress the tone of the investors.
This political ruckus to remain in the headlines and till the dust on this horizon settle down index to keep dropping, said an analyst at brokerage house.
Since last week, the index due to political turbulence has eroded the index by more than 1100 points.
On the other hand, dollar at the interbank market has been stable since the last week and pegged at Rs 105.40 level. Dealers said the activity on the import and export front has slowed down which has forced the green back to move in narrow band.