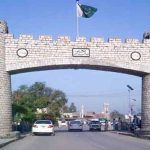 KARACHI: As a close fight is expected between Pakistan Democratic Movement's candidate Yousuf Raza Gilani and incumbent Finance Minister Abdul Hafeez Sheikh on an Islamabad Senate seat, the ruling Pakistan Tehreek-i-Insaf on Sunday formally approached its coalition partner Muttahida Qaumi Movement-Pakistan to seek its seven votes in the National Assembly.
Rumours are doing round that former president Asif Ali Zardari has assigned to a key aide the task of contacting the MQM-P for the party's votes for Mr Gilani since the PTI and its coalition partners enjoy a thin majority in the lower house and even one vote will matter.
A high-level PTI delegation headed by Federal Minister for Planning Asad Umar and comprising Finance Minister Hafeez Sheikh and Fauzia Arshad — both the PTI candidates for Senate from Islamabad — Privatisation Minister Mohammadmian Soomro and others arrived at MQM-P's temporary headquarters in Bahadurabad as part of their election campaign. The PTI leaders met MQM-P convener Dr Khalid Maqbool Siddiqui, senior leaders Amir Khan, Faisal Subzwari, Fedreal Minister Aminul Haque and others and discussed overall political situation with a specific reference to the March 3 Senate election.
Speaking to the media after the meeting, senior MQM-P leader Faisal Subzwari said that both the PTI and MQM-P had serious reservations over the National Census 2017 due to which the federal cabinet in its recommendations sent to the Council of Common Interest (CCI) had proposed to hold a new census as soon as possible. Accompanied by Mr Umar and Mr Sheikh, Subzwari claimed that the government had agreed in today's meeting to allocate a substantial fund for holding an early population census in the country in the federal budget for the financial year 2021-22.
In response to a question as to why PTI gave tickets to Faisal Vawda and Hafeez Sheikh despite serious internal reservations, Mr Umar said that PTI was a democratic party where people got a difference of opinion on every candidate other than Imran Khan. However, he said, Mr Sheikh was the only candidate whose candidature was finalised without a major debate as Prime Minister Khan was satisfied with his performance.