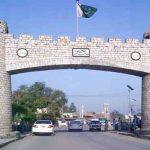 PESHAWAR: The Pakistan Tehreek-e-Insaaf (PTI) Chairman Imran Khan on Thursday announced that the party will try to stonewall attempts by the Pakistan Muslim League-Nawaz (PML-N) in its efforts to appoint a Senate chairman from PML-N.
Addressing a press conference, the PTI chairman alleged that the current manner in which elections for the Upper House are conducted encourage horse-trading and votes are sold.
Imran Khan further alleged that the secret ballot itself gives the opportunity to sell votes and not be held accountable. He said PTI is also conducting an internal inquiry following the Senate polls and added that senators were bought for more than Rs40 million.
Commending those PTI lawmakers who did not 'sell themselves', the PTI chairman said the party needs 'such individuals'.