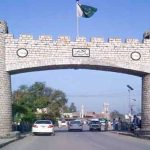 Pakistan Tehreek-e-Insaf (PTI) Monday challenged in the Supreme Court the imposition of Article 245 in the country.
PTI Additional Secretary Omar Ayub filed the petition through Barrister Gohar.
The petition pleaded with the court to declare the imposition of Article 245 and the crackdown under it null and void.
"Article 245 cannot be used for political purposes. It has been imposed to make the political rivals fight the armed forces," it stated.
"Trial in the military courts is a violation of the fundamental rights. The Constitution gives every citizen the right to transparent and fair trial," it pointed out.
"Never in the history have thousands of political workers and leaders been tried in military courts," it stated.
What is Article 245
1. The Armed Forces shall, under the directions of the Federal Government, defend Pakistan against external aggression or threat of war, and, subject to law, act in aid of civil power when called upon to do so.
2. The validity of any direction issued by the Federal Government under clause (1) shall not be called in question in any court.
3. A High Court shall not exercise any jurisdiction under Article 199 in relation to any area in which the Armed Forces of Pakistan are, for the time being, acting in aid of civil power in pursuance of Article 245: Provided that this clause shall not be deemed to affect the jurisdiction of the High Court in respect of any proceeding pending immediately before the day on which the Armed Forces start acting in aid of civil power.
4. Any proceeding in relation to an area referred to in clause (3) instituted on or after the day the Armed Forces start acting in aid of civil power and pending in any High Court shall remain suspended for the period during which the Armed Forces are so acting.