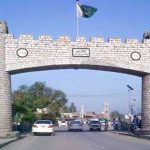 ISLAMABAD: Pakistan Tehreek-e-Insaf (PTI) has demanded of Interior Minister Ahsan Iqbal to step down from his post for summoning Pakistan Army to deal with the situation at Faizabad Interchange in Islamabad.
PTI Leader Jehangir Tareen has said that the army was summoned because of the incompetency of interior minister adding that countrywide protests by religious parties was result of Ahsan Iqbal's incapacity.
He termed government's decision to take all TV channels off air and suspend social media website undemocratic and pressed the government to take the decision back.
Tareen said that the sit-in at Faizabad by religious groups has exposed the incompetency of the interior minister who has made tall claims only instead of resolving the matter.
It merits mentioning that police, Rangers and Frontier Constabulary (FC) personnel launched crackdown against religious parties' sit-in at Faizabad Interchange protesting against the amendment in finality of Prophet-hood law in nomination papers.
The government dubbed the amendment as a clerical mistake and approved The Elections (Amendment) Bill 2017 from National Assembly and Senate and restored Khatm-e-Nabuwwat clause in its original form in the light of constitution however; the protesting body is adamant to its demand.
The protesters are demanding the resignation of Federal Minister for Law Zahid Hamid.