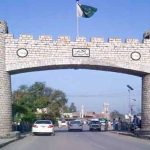 UMERKOT: Pakistan Tehreek-e-Insaf (PTI) Grand Democratic Alliance (GDA) have joined forces against Pakistan People's Party (PPP) for the upcoming General elections in Sindh.
Addressing a public meeting in Umerkot, GDA leader Arbab Raheem withdrew his candidature from NA-220 in favour of PTI leader Shah Mehmood Qureshi.
Speaking on the occasion, PTI's Shah Mehmood Qureshi said that the politics of Sindh would witness a wave of change in the upcoming general elections.
He added that PPP has done nothing for the people of the province adding that PPP did politics of collusion in the province for ten years.