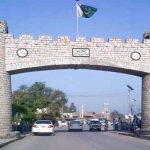 KARACHI: Pakistan Tehreek-e-Insaf's (PTI) nominee for the office of president Dr Arif Alvi on Sunday said the current government would focus equally on all parts of the country for development and prioritise the provision of basic amenities to the masses.
Talking to media here, he said the sense of deprivation in Balochistan would be addressed besides resolving the issues confronting the people of Sindh, particularly Karachiites.
He congratulated Imran Khan over his election as prime minister and thanked the allies for extending their support to help PTI win the general election.
Alvi thanked PM Imran for nominating him for the presidential slot and prayed for the success of the PTI to fulfill its commitments.
He said the journey of change has started and Imran, in his address to the nation today, would give a road map for his actions and priorities.
People will finally the government working to alleviate poverty and focusing on education, healthcare and housing facilities, he added.
The presidential nominee urged the Pakistan Peoples Party and allies to support PTI to resolve the problems of Sindh province.
To a question, he said that he would keep in contact with the masses.
Asked whether he would live at the President House or somewhere else, Alvi said he would try to keep residing in Parliament Lodges if he is allowed to.