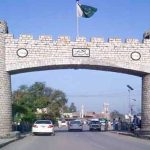 SWABI: National Assembly Speaker Asad Qaiser on Sunday said that the Pakistan Tehrik-e-Insaf (PTI) government will meet the expectations of the nation.
Speaking to the media in Swabi, where he cast his vote in the by-polls, Qaiser said: "PM Imran will address citizens next week, however, there is nothing to worry about. He said that Prime Minister Imran Khan will address the nation in the coming week.
Further, the NA speaker said the voting process was being carried out in a transparent manner. He also expressed his satisfaction over the voter turnout today.
Discussing the country's economic situation, Qaiser said inflation is temporary. He further added that those misusing the situation and fleecing people will be taken to task.
The incumbent government is facing harsh criticism from political circles due to the country's economic situation. In this regard, the prime minister has decided to take the public in confidence.
The Pakistan Tehreek-e-Insaf government has also decided to form a parliamentary commission to identify the people responsible for the current economic crisis in the country. The government will then take action in light of the recommendations provided by the commission.
Sources said a resolution regarding the formation of the parliamentary commission has been submitted in the National Assembly Secretariat by Information Minister Fawad Chaudhry.
The information minister is expected to present the resolution in the National Assembly, which states the joint parliamentary commission will present a report regarding the people responsible for the economic crisis in a month's time.