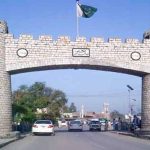 ISLAMABAD: Foreign Minister Shah Mehmood Qureshi on Sunday said that all parties conference (APC) of opposition should be with an agenda otherwise no need for any APC.
While talking to media, FM Qureshi said previous government accelerated all the issues and people know that who is responsible of their problems.
FM Qureshi said that Southern Punjab is province and a committee has been formed for it.
Pakistan Tehreek-e-Insaf (PTI) government has started its work with an aim to resolve the issues faced by people, he added.
In a response to a question regarding insecurities of former president and Pakistan Peoples' Party (PPP) co-chairman Asif Ali Zardari, he asserted that no one can be arrested over wish of any leader because decisions are taken after consultation of all relevant authorities.
He has also rejected the rumors of Governor Rule in sindh.