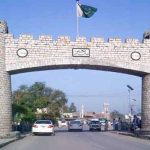 LAHORE: Pakistan Tehreek-e-Insaf (PTI) leader Jahangir Khan Tareen on Sunday disclosed that party is in contacts with several MNAs-elect of Pakistan Muslim League Nawaz (PML-N).
He was addressing a presser along with leaders of Pakistan Muslim League Quaid (PML-Q).
Tareen claimed that several MNAs-elect of Shehbaz Sharif's party can vote for Imran Khan for the slot of premiership [if matters go smoothly].
Talking on the occasion, PML-Q leader and Punjab Assembly Speaker-designate Pervez Elahi regretted that former Punjab Chief Minister Shehbaz Sharif had not left even a single institution in order.
Elahi vowed to work with PTI for the welfare of the masses of the Punjab.
Meanwhile, Caretaker Prime Minister Nasirul Mulk recommended August 13 for the first session of the National Assembly whereas Imran Khan is expected to take oath as Pakistan's new Prime Minister on August 8.
On the other hand, PTI's tally in NA has augmented to 158 after Election Commission of Pakistan (ECP) allotted reserved seats for women and minorities. Taking into account the numbers of coalition partners, PTI is well in position to form government in the Centre.