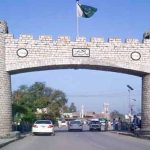 ISLAMABAD: Pakistan Tehreek-e-Insaf (PTI) leader Shah Mehmood Qureshi on Monday claimed that PTI is in strong position to form government in the centre as the party has representation in all the provinces.
Talking to media after the party's parliamentary committee meeting at a private hotel in Islamabad, Qureshi said opposition parties have allied against them owing to fear of the party. "The Pakistan Muslim League-Nawaz (PML-N), Pakistan Peoples Party (PPP) and Muttahida Majlis-e-Amal have come together owing to a fear of PTI," he said.
"Imran believes the opposition is very weak," he added.
Qureshi claimed that the PTI has emerged as the largest party of Pakistan. "We are in a position to form the government in the centre," Qureshi asserted as he thanked independent MNAs-elect for their support. "PTI has representation in all provinces and the centre," he maintained.
Speaking about the PTI's parliamentary committee meeting, Qureshi said he had the honour to present a resolution on behalf of the party nominating Imran Khan as their prime minister candidate.