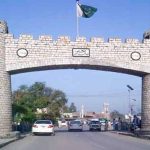 PESHAWAR: According to unofficial and unconfirmed results, Pakistan Tehreek-e-Insaf and Independent candidates are leading with five seats each in the first-ever elections in tribal districts for the Khyber Pakhtunkhwa provincial assembly.
According to the unofficial polling results of 13 constituencies out of 16, Jamat-e-Islami, and Jamiat Ulema-e-Islam-Fazl gained one seat each.
Polling began in 16 districts early on Saturday. Security forces were deployed inside and outside 554 highly sensitive polling stations. According to the provincial election commissioner, results in the tribal districts would be given on WhatsApp due to a network issue in the area.
There were a total of 1,897 polling stations set up for the election. 282 candidates were vying for the 16 general seats, including nominees for the ruling Pakistani Tehreek-e-Insaf, JUI-F, Awami National Party, Pakistan Muslim League-Nawaz, Jamaat-e-Islami, Pakistan Peoples Party and Independents.
Two women contested the provincial election in the tribal areas of the Khyber Pakhtunkhwa province.
Naheed Afridi from the Awami National Party (ANP) aspired for a win in the conservative Khyber district's constituency of PK 106. There were a total of 148,470 voters in this constituency, of which 65,652 (44 per cent) are female.
The other woman was Malasa Bibi, who was fielded by the Jamaat-e-Islami (JI) for PK 109 in the Kurram district. In her constituency, there were 187,844 voters in all, of which 82,560 were women.