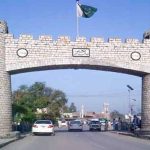 KARACHI: Pakistan Tehreek-e-Insaf's Karachi chapter president Firdous Shamim Naqvi has said that his party has joined hands with the Muttahida Qaumi Movement-Pakistan out of necessity and compulsion rather than the choice.
Addressing a news conference, Firdous Shameem Naqvi said that PTI has not taken a U-turn. "We went there to meet MQM leaders because it was a necessity and compulsion," Naqvi said.
We think Imran Khan should become a prime minister, so we made little compromises, he said.
He was of the view that the MQM suffered setback in the July 25 general elections due to the performance of its Karachi mayor, Waseem Akhtar.
The PTI leader's remarks came two days after the MQM announced to give the PTI the required majority in the National Assembly for the election of Imran Khan as prime minister.
Also, the two old foes signed an agreement for the formation of a new government.
Some of the MQM's key demands are: a special federal financial package for urban Sindh, police and local government reforms, merit based appointment in government sector and revision of the ongoing operation in Karachi.
Senior MQM leader Farooq Sattar commented on Naqvi's statement. He said making an alliance with PTI was MQM's compulsion.