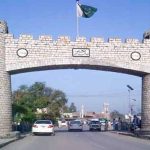 PESHAWAR: Pakistan Tehreek Insaf (PTI) Khyber Pakhtunkhwa has termed the caretaker cabinet of the province as B-team of the Pakistan Democratic Movement (PDM).
In a tweet, spokesman for PTI Khyber Pakhtunkhwa and former provincial minister Shaukat Yousafzai said that the provincial caretaker cabinet is comprised of ANP, JUI, PML-N and PPP members. He doubted fair and transparent elections in presence of such cabinet. Is it not a joke with the people and slap on the this system, he asked. He said that the PDM is running away from elections despite bringing their own umpires in Khyber Pakhtunkhwa and Punjab. He added that the PDM is looking for ways to run way from elections, which is violation of constitution of Pakistan.
The PTI leader asked the Election Commission of Pakistan (ECP) to immediately announce elections schedule for holding elections on time.
خیبر پختونخوا کی نگران کابینہ پی ڈی ایم کی بی ٹیم لگتی ہے ۔ اے این پی ، جے یو آئی ، نون لیگ اور پیپلز پارٹی پر مشتمل نگران وزراء کی موجودگی میں کیا خوب شفاف الیکشن ہو ں گے۔ کیا یہ اس ملک ،عوام کے ساتھ مذاق اور اس نظام کے منہ پر طمانچہ نہیں۔

— Shaukat Ali Yousafzai (@SAYousafzaiPTI) January 27, 2023