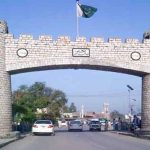 PESHAWAR: Following Pakistan Tehreek-e-Insaf (PTI) chief Imran Khan's allegations of being indulged in horse-trading in recent Senate elections, Khyber Pakhtunkhwa disgruntled lawmakers threatened to move court with evidence against Imran Khan.
KP MPA Fozia Bibi announced to move court against PTI's chief and claimed that Khan was hurling reckless allegations at her.
She stated that KP Chief Minister Pervez Khattak did not know who voted for whom in Senate elections.
However, Fozia asserted she still stood with PTI and would respond to the show-cause notice. "We desire to unveil the drama that happened in Senate polls", stated Fozia.
On the other hand, former PTI leader Javed Nasim held the notion that he had left PTI three years ago and hence, wasn't liable to respond to the Imran Khan.
"I will reply Imran Khan in the court and will file defamation suit against him. To hurl allegations is an old tradition of Imran Khan", Nasim said.
Earlier, PTI decided to expel its lawmakers for "selling their votes" in Senate elections if they fail to satisfy the show cause notices issued to them, party's Chairman Imran Khan said Wednesday.
During a presser, the PTI chief said that the party had taken a strict action against those who sold votes. He said that 20 of PTI MPAs had received Rs 40 million each for selling their loyalties in the Senate election.