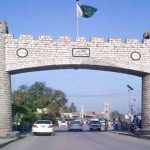 ISLAMABAD: A local leader of Pakistan Tehrik-e-Insaf (PTI), Chaudhry Nisar was shot dead in Sitara Market, Islamabad here on Friday evening.
According to details, unknown assailants opened firing on PTI leader Chuadhry Nisar in Sitara Market in the limit of Abpara police station. As a result of firing Chuadhry Nisar killed on the spot. Chaudhry Nisar was a local leader of PTI from Gujjar Khan area of Islamabad.
Local traders staged protest against the targeted killing of PTI leader and blocked road for all kind of traffic. The protesters demanded the government to arrest the killers and give them exemplary punishment.