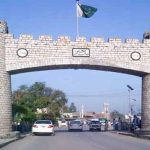 LAHORE: PTI leader Fawad Chaudhry has been arrested from his house in Lahore for comments regarding secretary of Election Commission of Pakistan on Tuesday.
He was arrested after the ECP Secretary Omar Hameed, in reaction, filed an FIR at Kohsar police station at midnight, following Fawad Chaudhry interview, that there were threats to his life because of the PTI leader's comments.
"Fawad Chaudhry reached home from Zaman Park and was arrested there," PTI's Farrukh Habib told media while confirming his arrest.  "I was close by when I heard. I tried to follow the police cars and tried to stop them. But there were too many. They took the exit at Thokar Niaz Baig they headed to the motorway."
PTI leader Hammad Azhar said that no one knew where he had been taken.
It said that in an interview on a TV channel, Fawad said the secretary Election Commission was a clerk or munshi and signed whatever decision he was told to. The PTI leader had said that if this is what the secretary is going to do, he should just go home. There is a threat to his life, the secretary said.
آئینی ادارے کی درخواست پر پی ٹی آئی رہنما فواد چوہدری کے خلاف مقدمہ درج کیا گیا۔

سیکرٹری الیکشن کمیشن آف پاکستان کی درخواست پر تھانہ کوہسار میں درج کیا گیا۔

فواد چوہدری نے چیف الیکشن کمشنر اور ممبران کو ان کے فرائض منصبی سے روکنے کے لئے ڈرایا دھمکایا۔
1/2

— Islamabad Police (@ICT_Police) January 25, 2023
Fawad had said that the ECP official was a rubber stamp. He would do as he was told; if he is told to make Mohsin Naqvi Punjab's chief minister, he signs off on it. In the interview he said that they would keep going after them, until they were punished, They would send home people who were cheating the people of Pakistan. All the people who took part in the May 25 case are being brought back. He reiterated the PTI's claim that all the officials who helped government halt the party's long march are now given charge of the province.
The federal capital police, according to sources, arrived in Lahore to arrest Fawad Chaudhry. The FIR was not clear until morning. Four sections have been applied and it is not immediately clear if they are bailable offences or non-bailable offences.
It is likely he will be presented in court as he cannot be held beyond 24 hours without being produced in front of a magistrate. There will be attempts to secure remand.
Section 153 has been added to the FIR. It refers to the offence of provoking a riot. If there is a riot then the person who provoked it can be jailed for a year and fined and if there is no riot as a result of their provocation, six months.
There were fears that Imran Khan would be arrested, prompting PTI workers to head to Zaman Park. PTI workers gathered there overnight.
Fawad was arrested at the request of a Constitutional institution, the Islamabad police confirmed.
Fawad threatened the chief election commissioner and members to prevent them from performing their duties, it said in a tweet, alleging that the PTI leader tried to create violence against the constitutional institutions and inflame the sentiments of the people.