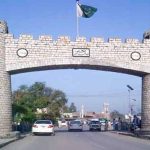 KARACHI: Senior PTI leader and Special Assistant to Prime Minister Imran Khan, Naeem-ul-Haque has lost his battle against cancer and passed away today (Saturday) at Agha Khan Hospital at the age of 70 in Karachi.
Naeemul Haque's funeral prayers will be offered after Asr prayers on Sunday at Masjid Aisha, Khayaban-e-Ittehad in Karachi's DHA, according to a statement issued by PTI Karachi.
Earlier today, Naeemul Haque was immediately rushed to the hospital as his health deteriorated. He was kept in Intensive Care Unit (ICU) but could not survive.
The political leadership of the country expressed grievance on the death of Pakistan Tehreek-e-Insaf (PTI) stalwart Naeemul Haque who passed away at the age of 70 after suffering from cancer.
Pakistan Muslim League-Nawaz (PML-N) President Shehbaz Sharif extended profound condolences to the bereaved family and the PTI, and expressed sadness to hear about Naeemul Haque's demise.
Punjab Health Minister Dr. Yasmin Rashid called the PTI senior leader "a true friend, a pillar and a patriot". She also expressed condolences saying: "Terribly saddened that Naeemul Haque lost the battle to his illness. May Allah grant him the highest state in Jannah."
She added that Naeemul Haque fought valiantly for the cause of 'Naya Pakistan' and stood besides Prime Minister Imran Khan through thick and thin.
Chief Minister of Punjab Usman Buzdar expressed deep sorrow and regret over the death of Naeemul Haque and extended his heartfelt condolences to the bereaved family.
He lauded the unparalleled services of the stalwart for the party and called him a valuable asset. He added that they have lost a long and sincere friend and his services will be remembered.
Meanwhile, Prime Minister Imran Khan condoled the death of Pakistan Tehreek-e-Insaf (PTI) stalwart Naeemul Haque, who passed away today after fighting a long battle with cancer, and termed his demise as an "irreplaceable void".
PM Imran expressed that he is devastated by one of his oldest friends Naeem's demise. "He was one of the 10 founding members of PTI and by far the most loyal", he added.
He went on to say that throughout the 23 years of PTI's trials and tribulations, Naeemul Haque always stood by him. "He was always there for support whenever we were at our lowest ebb", he expressed.
PM Imran praised the PTI stalwart for his courage and optimism and said: "In the last two years I saw him battle cancer with courage and optimism," he said, adding that till the end Naeemul Haque was involved in party's affairs and attended cabinet meetings as long as he was able.