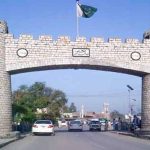 ISLAMABAD: Pakistan Tehreek-e-Insaf (PTI) leaders Arif Alvi and Imran Ismail were arrested by Islamabad Police as they attempted to reach Imran Khan's Bani Gala residence on Monday.
Video footage showed Capital City Police dragging Alvi into a car as he tried to remove barriers to reach Imran's residence.
Footage shows Alvi and Ismail trying to push through the police lines and at one point Dr. Alvi managed to break through but was stopped by an officer.
The PTI leaders then decided to stage a protest along the road but both were placed under arrest by for violating Section-144 and were removed to an undisclosed location.
Interestingly both leaders were not taken in a police mobile but in fact were shifted in a Hiace van.
On Friday, singer Salman Ahmed was briefly detained from outside Bani Gala as he tried to visit Imran Khan.
Earlier today, the PTI chief asked Supreme Court to take suo motu notice of the arrests of his party workers by the police.Addressing the media outside his Bani Gala residence, Imran asked "Under which law are my people being arrested? These are no arrests, these are outright abductions."
The PTI chief said the enormities were being 'illegally' committed by the government and that it was a test of the judiciary to prove its worth under whose nose the arrests were taking place.
Criticising the prime minister, Imran said, "Nawaz Sharif is a product of dictatorship, he does not understand democracy." He warned his party workers of a possible crackdown by the police today. "I have told workers to gear up as we will be offering resistance," he said.
People from K-P will arrive at Bani Gala while removing all obstacles, created by police.