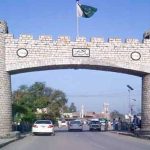 ISLAMABAD: A delegation of the Pakistan Tehreek-e-Insaf on Sunday called on Ayaz Sadiq, the speaker of the National Assembly, a day before the party brings its own speaker through election in the lower house of the parliament.
Speaking to the media after the meeting, Asad Qaisar, the PTI nominee for the speaker , said his party wanted to take the opposition into confidence and sought to develop working relationship.
He said the party wants to run the government in consultation with the opposition given the challenges facing the country.
Ayaz Sadiq said the PTI delegation has also offered to discuss the issues related to the recently held general elections.
He said the PTI delegation also brought the invitation to the oath taking ceremony of prime minister.
Pervaiz Khattak, Fawad Chaudhry and Shafqat Mehmood were also part of the PTI delegation which met the speaker of the outgoing assembly.
Fawad Chaudhry, the central spokesman of the PTI, said they would also meet PPP stalwart Khursheed Shah to seek their cooperation.
To a question , he said the PTI would address the opposition's reservations regarding the election.