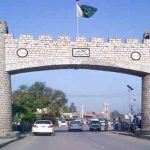 RAWALPINDI: Former Pakistani Prime Minister Imran Khan is expected to address charged crowed shortly at his first public appearance since being shot earlier this month in an assassination attempt.
Having survived an assassination attempt in Wazirabad on November 3, former prime minister and party chief Imran Khan is due to join the protesters in person for the first time in three weeks, having recovered sufficiently to travel. The shooting was the latest twist in months of political turmoil that began in April when Imran was ousted by a vote of no confidence in parliament.
Saturday's rally is the climax of a so-called 'long march' by PTI to press the government to call a snap election before parliament's term expires in October next year.
"My life is in danger, and despite being injured I am going to Rawalpindi for the nation," PTI quoted Khan as saying in a morning tweet.
"My nation will come to Rawalpindi for me."
Elahi, Imran discuss political situation, 'long march'
On Saturday, a video was circulating of aides posing with a now-removed blue cast that Khan wore on his right leg after the shooting.
The rally will take place on a vast open ground between the capital, Islamabad, and neighbouring Rawalpindi — the garrison city that is home to the headquarters of the country's military.
Authorities have thrown a ring of steel around Islamabad to prevent PTI supporters from marching on government buildings, with thousands of security personnel deployed and roads blocked by shipping containers.
Imran-led protests in May spiralled into 24 hours of chaos, with the capital blockaded and running clashes across Pakistan between police and protesters.