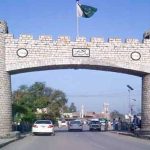 ISLAMABAD: A group of Pakistan Tehreek-i-Insaf senior leaders who reached Parliament to call on Speaker Raja Pervaiz Ashraf were stopped at the gate of Parliament House as they were not allowed to meet the custodian of the house.
The PTI group was included Shah Mehmood Qureshi, Fawad Chaudhry, Asad Qaiser, Shibli Faraz and others.
The PTI senior leaders had to leave the Parliament House as Speaker Raja Pervaiz Ashraf was not present in the house.
Now the group is heading back to Lahore to meet PTI Chairman Imran Khan at Zaman Park later today.
The PTI leaders wanted to meet the National Assembly speaker in order to make a request to withdraw their resignations (which the speaker has accepted earlier in the day).
The PTI leadership decided to withdraw their resignations after party's parliamentary meeting in the Khyber Pakhtunkhwa House today.
As many as 76 PTI Members of the National Assembly participated in the parliamentary meeting.
The huddle decided that after having a meeting with National Assembly speaker, the PTI MNAs would request him that they wanted to withdraw their resignations. The speaker will also be requested to not accept further resignations of the PTI lawmakers.
If the speaker does not accept the resignations en masse, then he will be asked to give two assembly's positions i.e. opposition leader and public accounts committee chairmanship back to the PTI, the meeting further decided.
Then the conclave participants decided to go to the National Assembly and hold a meeting with the speaker to inform him about the PTI's decision.
But, the PTI's move has proved a bit slow as the speaker earlier in the day has already accepted another 35 resignations of the PTI MNAs taking the tally of total resignations of party's lawmakers to 80.