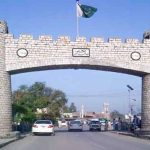 LAHORE: A handful of Pakistan Tehreek-e-Insaf (PTI) workers were injured when guards of senior PTI leaders thrashed them at the PTI Chairman Secretariat, Lahore on Saturday for trying to follow their leader into a room.
The scuffle broke out when the PTI Chairman Imran Khan and other senior leaders arrived at the secretariat for a meeting. A few party workers attempted to follow Khan into the meeting room but guards intervened and ended up thrashing the workers, injuring them.
Umer, one of the injured workers, said Imran had summoned local workers and party leaders to discuss the NA-120 by-poll campaign and assign responsibilities. He added that the workers wanted to go into the meeting room with Imran but Jehangir Tareen and Aleem Khan's personal security guards started beating them.
On the other hand, PTI security staff said workers were stopped at the gates for Imran's security but they tried to forcefully get in and a scuffle erupted, causing injuries to some workers.