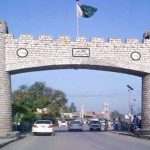 PESHAWAR: Pakistan Tehreek-e-Insaf (PTI) stood first in the Khyber Pakhtunkhwa assembly and is leading by 64 seats secured in the general elections, according to unofficial results.
The results obtained by Khyber News show that Muttahida Majlis-e-Amal (MMA) has secured second position in the assembly by getting 12 seats.
Awami National Party (ANP) secured third position with eight seats.
Pakistan People's Party (PPP) and independent candidates have won three seats each.