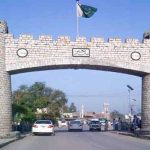 PESHAWAR: Azizullah Khan, Member of Provincial Assembly of the Pakistan Tehree-e-Insaf (PTI) from Khyber Pakhtunkhwa submitted his resignation in the light of party chairman Imran Khan's directives.
Azizullah Khan, Chairman of the Standing Committee on Minerals, is the first who resigned from Khyber Pakhtunkhwa Assembly following party chief and former prime minister Imran Khan's decision to resign from all provincial assemblies in order to push the federal government for early general elections.
Talking to media, Azizullah Khan said that he is resigning in writing to fulfill the order of party chairman Imran Khan, this seat was entrusted to him by Imran Khan and party.
The seat has no value to him, he is resigning from the seat. It should be noted that Azizullah Khan was elected from PK-4 constituency of Swat of Khyber Pakhtunkhwa.
Meanwhile, another MPA from Peshawar, Engineer Faheem Ahmad, has refused to tender resignation from the seat on party chairman directives.
It is pertinent to mention here that Faheem Ahmad earlier in September had announced of quitting the PTI.
Meanwhile, the opposition in the K-P Assembly has decided to take all constitutional and legal means, including a no-confidence motion against the chief minister, to prevent the dissolution of the assembly.