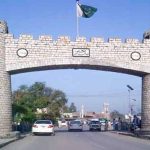 ISLAMABAD: Pakistan Tehreek-i-Insaf (PTI) Monday nominated MNA Qasim Suri from Balochistan as its candidate for the post of deputy speaker of the National Assembly.
The decision was announced by PTI's candidate for speaker National Assembly Asad Qaiser during a press conference. He said that he would run the day-to-day business of the house diligently.
Suri on this occasion thanked the party leadership for nominating him for the post of deputy speaker and said his nomination would help eliminate the sense of deprivation among the people of Balochistan.