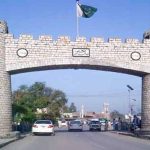 ISLAMABAD: Pakistan Tehreek-e-Insaf (PTI) leader Pervez Khattak on Wednesday clarified that his party has never opposed Pakistan-China Economic Corridor (CPEC) project.
He was addressing session of lower house of parliament here in Islamabad.
The former Chief Minister of Khyber Pakhtunkhwa (KP) said that his party had convinced the authorities concerned to also launch construction work in west route of the project. He also assured to fight for the right of the province at every level.
Earlier during the session, Opposition Leader in National Assembly (NA) Shehbaz Sharif posed challenged to the Leader of House Imran Khan that former would relinquish politics if latter proves allegations of seeking National Reconciliation Ordinance (NRO).
Shehbaz stated, "I curse NRO."
The Pakistan Muslim League Nawaz (PML-N) president added that he had faced 'fake and politically-motivated cases' in the past.