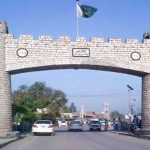 ISLAMABAD: Pakistan Tehreek-e-Insaf (PTI) on Friday decided to nominate party leader Azam Swati for the position of opposition leader in Senate.
A meeting of the party's core group unanimously approved the decision, PTI spokesperson said.
Earlier today, PTI leader Shah Mehmood Qureshi turned down any chance of an alliance with the Pakistan People's Party (PPP) in coalition with whom the opposition party elected its candidate for chairman in the recently held Senate polls.
Qureshi while speaking to media said that the mutual understanding existed only for the sake of appointing a candidate from Balochistan.
He said that if the chairman was elected from ruling Pakistan Muslim League-Nawaz then democracy would have been damaged.
The PTI leader said that the PML-N is on the track to confrontation. "The PML-N should ponder who were the people who didn't support it despite being with it," said Shah.
PTI Chairman Imran Khan has time and again refused the possibility of an alliance with the PPP.
The party will start campaigning for the upcoming general election from April 29, the meeting decided.
The campaign will officially kick start through a public rally in Lahore.
PTI chief Imran Khan instructed central party leaders to visit various regions to increase membership.