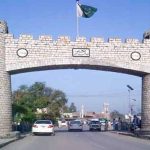 DADU: Former Chief Minister Sindh and Pakistan Tehreek-e-Insaf (PTI) leader Liaquat Jatoi has accused his own party leadership of selling a Senate election ticket for millions of rupees.
Speaking at a press conference in Dadu, Liaquat Jatoi alleged that the PTI leadership sold a Senate ticket to Saifullah Abro for Rs350 million and the deal was completed at Governor House Sindh. He further said that local leadership is being ignored, on account of which he hinted at splitting from the party. He also announced to convene a meeting of party leaders and his supporters on February 26.
Liaquat Jatoi said that he has written a letter to Prime Minister Imran Khan, informing him of how important decisions of Sindh are being taken in the Governor House's drawing room.