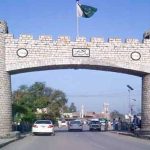 LAHORE: Pakistan Tehreek-i-Insaf (PTI) and Pakistan Muslim League Quaid (PML-Q) have decided to give tough time to Pakistan Muslim League-Nawaz (PML-N) in the upcoming general elections.
According to media reports, both the parties on Sunday agreed to craft and contest general polls 2018 under mutual strategy.
PTI and PML-Q have reached on conclusion for mutual cooperation in Punjab for 2018 elections, the reports added.
The reports further said that the decisions were made as a result of high-level contacts between the two parties.