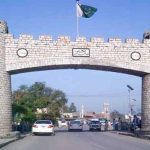 LAHORE: Pakistan Tehreek-e-Insaf (PTI) and the caretaker government of Punjab have reached an agreement regarding rallies, security, and legal issues, which would be submitted in the high court today.
As per the agreement, the PTI will cooperate with the police in arrest warrants and search warrants. The PTI leadership has nominated Shibli Faraz and Ali Khan as focal persons.
SSP Imran Kishwar will be the focal person from the police side. The PTI will cooperate with police in investigation of cases related March 14 and 15 incidents.
The PTI will hold the rally on Monday instead of Sunday. The PTI would contact the administration for for permission to hold the rally.
The PTI will inform at least five days before holding a rally. Guidelines will be followed for Imran Khan's security.
The PTI will submit requests to the relevant authorities for security matters. Shibli Faraz will be the focal person for dealings with security agencies.