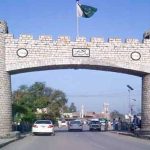 ISLAMABAD: Pakistan Tehreek-e-Insaf (PTI) on Monday announced that it would not make alliance with any political party in the upcoming general elections.
This was announced by PTI leader Fawad Chaudhry in a press conference in which he dismissed the possibility of forming an alliance with any party in the upcoming elections.
PTI would contest the next general elections as a single party; Fawad Chaudry said and added that they have clarified this time and again.
He rejected the rumor of PTI and PML-Q forming alliance and said that PTI would not be forming any alliance with any party.
Fawad Chaudry further said that alliance with PML-Q was out of question.
At the outset of the press conference, the PTI leader said that Pakistan People's Party (PPP) has finalized and forwarded to Prime Minister Shahid Khaqan Abbasi names for the slot of caretaker prime minister.
Fawad Chaudry said it was a matter of time whether Premier Shahid Khaqan Abbasi would agree with the names; however, he himself on behalf of the party rejected both the names.
Let it be known that PPP earlier today finalized names of Zaka Ashraf and Jalil Abbas Jilani for the slot of caretaker prime minister and forwarded these names to Prime Minister Shahid Khaqan Abbasi.