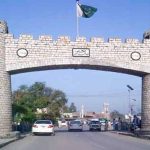 MULTAN: Pakistan Tehreek-e-Insaf (PTI) Vice Chairman Shah Mehmood Qureshi Friday termed the SC verdict a historic one and said that all political parties should accept the decision.
Talking to the media in Multan, Qureshi said that the disqualification of PTI's leader Jahangir Taree had cost party dearly but even then the party had accept the decision. "The PML-N should also accept the decision with an open heart."
He warned that more -N lawmakers would party their ways with the party if the PML-N continued to criticise institutions.
The PTI leader told journalists that there was a big difference between Nawaz disqualification case and the one against Zulfiqar Ali Bhutto. He said that the PML-N must not have liked the decision as it was against their leader. "But they should move forward and must not make such legislation that could be detrimental for them in the future," he warned.
He said that political parties did not revoled around a few personalities. The former foreign minister further added, "The PML-N has lost its way, while our leader has been declared trughful and righteous."
He said that Jahangir Tareen resigned from the party's secretary general rank after his disqualification as the PTI wanted the rule of law.