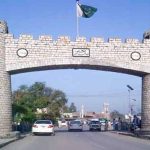 ISLAMABAD: Legislators belonging to the Pakistan Tehreek-e-Insaf ( PTI) on Monday submitted an adjournment motion to the National Assembly against the amnesty scheme.
The motion was moved forward by the party members Shireen Mazaari, Asad Umer and Munazza Hussain in NA secretariat.
It adopts stance that the amnesty scheme aims to protect tax evaders, money launderers and assets obscurers.
Bringing the scheme 45 days before the government complete its term and two weeks prior to presenting national budget is an attack on democratic process, added the motion.
PTI has demanded to discuss the amnesty scheme while postponing the usual agenda of the House.
The party has also submitted an adjournment motion to hold discussion over situation in occupied Kashmir. It states that the government has failed to present a comprehensive policy over the matter.
The motion stressed to create harmony over Indian atrocities in occupied Kashmir.