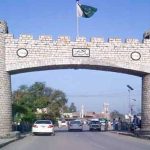 KARACHI: Pakistan Tehreek-e-Insaf (PTI) member of provincial assembly (MPA) Imran Ali Shah's membership has been suspended for a month after he failed to respond to the show-cause notice issued over thrashing a local in Karachi.
PTI member of National Assembly (MNA) Najeeb Haroon has confirmed the news and said that disciplinary committee is looking into the matter.
Syed Imran Ali Shah, the elected MPA from PS-129, was seen thrashing a common man publically on one of the busiest roads of Karachi. After the video went viral, not only was the MPA shown extreme hatred by the Pakistanis, but the PTI had to issue a show cause notice within a couple of hours.
The notice stated, "Your actions are not acceptable as seen in the video, therefore, you are required to present your version in the next 24 hours. Failing to do so, will refer your case to the disciplinary committee for appropriate action."
The MPA released a video in which he explained his side of the story. He also visited the victim's house late night and asked for his forgiveness in public.