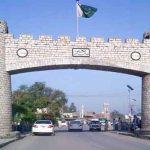 ISLAMABAD- Imran Khan, Chairman Pakistan Tehreek-e-Insaf (PTI), on Saturday announced that his party would hold long march against imported government in the last week of May.
In a video message on Saturday, the former prime minister said that the timing was discussed at a core committee meeting of the PTI.
He said the call was not only for the PTI workers but also for all of the Pakistanis.
He again levelled corruption allegations against the current federal cabinet.
Khan said that the preparation for the long march will begin on the Chand Raat, when, he said, the youth must come out with PTI flags.
Khan said that the long march would be the biggest gathering of people in the history of Pakistan and it would 'tell' that 'never after this point' any country would be able to impose a corrupt gang on Pakistan.
He said that 60 per cent of the cabinet members are on bail. "The one who has become the prime minister, he is being called a crime minister. They have [corruption] cases worth Rs40 billion against them in FIA and NAB," he added.
Imran Khan urged every Pakistani to prepare for bringing 'real freedom', adding that the process of preparation would begin on Chand Raat — on eve of Eidul Fitr.
"I want to address the youth here in particular that you have to come out on Chand Raat with flags and let the world know that Pakistanis are a lively nation," he added.
The former prime minister claimed that his long march would be the "largest gathering in the history of Pakistan". He said, "There will be an ocean of people which will let everyone know that from this point on, no country will ever impose a corrupt gang on this nation."
He further said that all decisions about Pakistan will be made by the Pakistanis from no onwards.