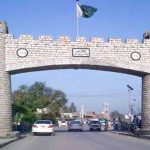 Pakistan Tehrik-e-Insaf has decided to boycott today's joint session of the Parliament.
The party maintained that its senators will not attend the joint session till the date for elections was not announced
The PTI, the sources said, was of the view that the present government has lost public's interest and sitting with them would not be fair with Pakistan.
The decision of the PTI Chairman Imran Khan has been conveyed to the party leaders.
PTI committee
The PTI has constituted a committee to work for release of party workers arrested recently.
Mian Mehmoodur Rashid will head the 11-member committee.
Nasir Salman, Waqas Amjad, Rana Mudassar, Yousuf Wyne, Waqar Mushtaq, Mian Mubashir, Mahmood Joya, Saeed Bhatta and Khalid Sandhu will be among the members.
The committee will decide on steps aimed at securing release of the party workers.