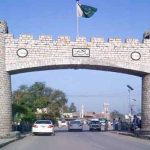 ISLAMABAD: The political parties and independent candidates across the country have expedited their election campaigns as the general elections are getting closer.
In this connection, Pakistan Tehreek-e-Insaf (PTI) will organize a public rally at Mazar-e-Quaid in Karachi.
The rally will kick off at 6 pm while PTI Chairman Imran Khan and other party leaders will address the participants.
Pakistan Muslim League-Nawaz (PML-N) will also hold a public gathering in Multan today where the party's President Shebaz Sharif will deliver speech.
Pakistan People's Party has also completed arrangements for its rally in Sehwan Sharif where party's Chairman Bilawal Bhutto Zardari is expected to address the participants.
Grand Democratic Alliance (GDA) has also planned on holding a public rally in Khairpur today.