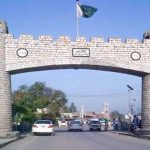 ISLAMABAD— Pakistan Tehreek-e-Insaf (PTI) members of Nation Assembly (MNA) have walked out of the session to elect the new prime minister.
Before staging the walkout, PTI's Shah Mehmood Qureshi said taking part in this election will be akin to legitimizing the incoming government.
"Although I was the PTI candidate for the prime minister, I boycott the election," he said.
At the start of the session, Suri asked the members and the visitors to maintain silence as "he has important things to say."
He then waved a piece of paper, which he said is the letter sent by former Pakistan Ambassador to the US Asad Majeed, which has been at the heart of this political turmoil.
Suri said his ruling on April 3 had been under intense scrutiny but he made the decision as a "patriot Pakistani and a defender of the National Assembly."
"The federal cabinet, the National Security Committee meeting and the Parliamentary Committee on National Security debated the letter and concluded that the no-confidence motion against Imran Khan was indeed a conspiracy," said Suri.
He added that the federal cabinet has decided to declassify the letter and he is sending it the chief justice.
Earlier, talking to the media inside the assembly, Shahbaz Sharif said the fist thing he will do as a prime minister will be to unite the nation and end differences.